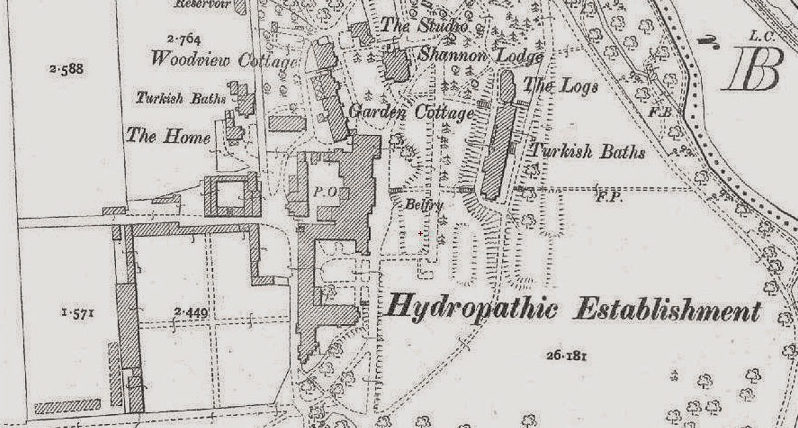 At the time the majority of Victorians had no indoor running water, let alone any experience of taking what we think of as an ordinary bath, David Urquhart, and another anonymous writer, who had travelled in Turkey argued that a network of public Turkish baths should be built at public expense.
The first modern Turkish bath was build at St Ann's Hydropathic Establishment in Ireland in 1856, and then spread to the north of England, and Scotland; and simultaneously southwards, through the midlands, until it finally arrives in London four years later in 1860. Their success was due almost entirely to the activities of the vibrant Turkish Bath Movement, who gained awareness for them through public meetings and writing letters to newspapers.
The first Baths and Wash-houses Acts were passed in 1846 and 1847 meant that councils had to supply bathing and washing facilities to its citizens, and some councils later used this as a way of supplying public Turkish baths, often paid for by public subscription.
Urquhart saw that working men gained building skills when building the baths, and he also saw value of using their bath premises as a meeting-place, providing an alcohol-free environment where the men, and separately women, could meet in the equivalent of a club.
Over six hundred Turkish baths have so far been identified in the British Isles alone. These include baths run by individuals and those by companies; baths in asylums and hospitals; baths in hotels and hydros; baths in private houses and members' clubs; and even baths for those travelling in ocean liners, and baths for animals.
Lord Armstrong's House, Cragside had a hot room and cold plunge pool added for his use in 1870. In 1874, Pilgrim Street Turkish Baths opened for the Newcastle upon Tyne Turkish Bath Company Limited one of 3 sets of Turkish Baths in Newcastle.  The First Turkish Bath in a hospital was at Newcastle's Royal Victorian Infirmary.
The current Turkish Baths in The City Baths, Newcastle which originally opened in 1928 as the Northumberland Baths replaced an earlier Baths building which had opened in 1859, one of the earliest in the UK.
There were 5 Turkish Baths in South Shields, 2 in North Shields, 3 in Stockton, 5 in Sunderland, 1 each in Spennymoor,  Tow Law and Whitley Bay, 4 in Hartlepool, 3 in Darlington,  3 in Middlesbrough and 2 in Bishop Auckland, (although not all necessary open at the same time)
Today only a handful of Turkish Baths are active and available for visitors to use in the UK. Newcastle City Baths will join Harrogate, Ironmonger's Row, Carlisle, Portobello, and two members clubs in Glasgow as Turkish Baths still in use in the UK.
With thanks to Malcolm Rifkin and his website www.victorianturkishbath.org